I'm a third year Software Engineering student at the University of Waterloo, currently finishing up my internship as a Software Engineering Intern at Doximity. I can't believe there are only three weeks left; time really does fly when you're having fun. My goal with this post is to cover as much internship-related information as possible. To do that, I'm going to organize my experiences into a Q&A where I answer the questions I generally have when going into an internship.
Q: What's the interview process like for an intern?
A: I really enjoyed the Doximity interview process, it was quick, efficient, and made sense. There were a total of three interviews over the course of a couple days. Each interview was with a different senior engineer, and they were each about 45 minutes long. The interviews tested applicable technical knowledge, which is something I've rarely seen in internship interviews. By "applicable technical knowledge" I mean knowledge that will contribute to success on the job. In the four months I've worked at Doximity, I've been able to apply answers to these interview questions directly to my work. The interviewers also left a good chunk of time to pitch Doximity to me and for any questions that I had. The whole process is very prompt. Within a day of finishing each interview, someone will reach out to you with next steps, whether that be a follow-up interview or an offer. I really appreciated this transparency because a lot of other companies I was interviewing with at the time took weeks to get back to me. There's nothing a student appreciates more than quick turnaround on decisions (thanks to Doximity's awesome Technical Analyst, Jackie!)
Q: How's the learning experience?
A: This is the most important thing I look for in an internship, and is the biggest factor in how I rank my internships. If you're looking for a TLDR, here it is: Doximity ranks first out of my 4 internships in terms of learning experience.
As far as technology goes, I learned a lot. I primarily worked with Rails applications which was great for me as I've never used Rails in a professional setting before. My last two internships were full stack roles in the Javascript ecosystem, and I can safely say I feel a lot more at home with Rails than I ever did with Javascript. Furthermore, coding in Rails is, by far, the most fun I've ever had coding.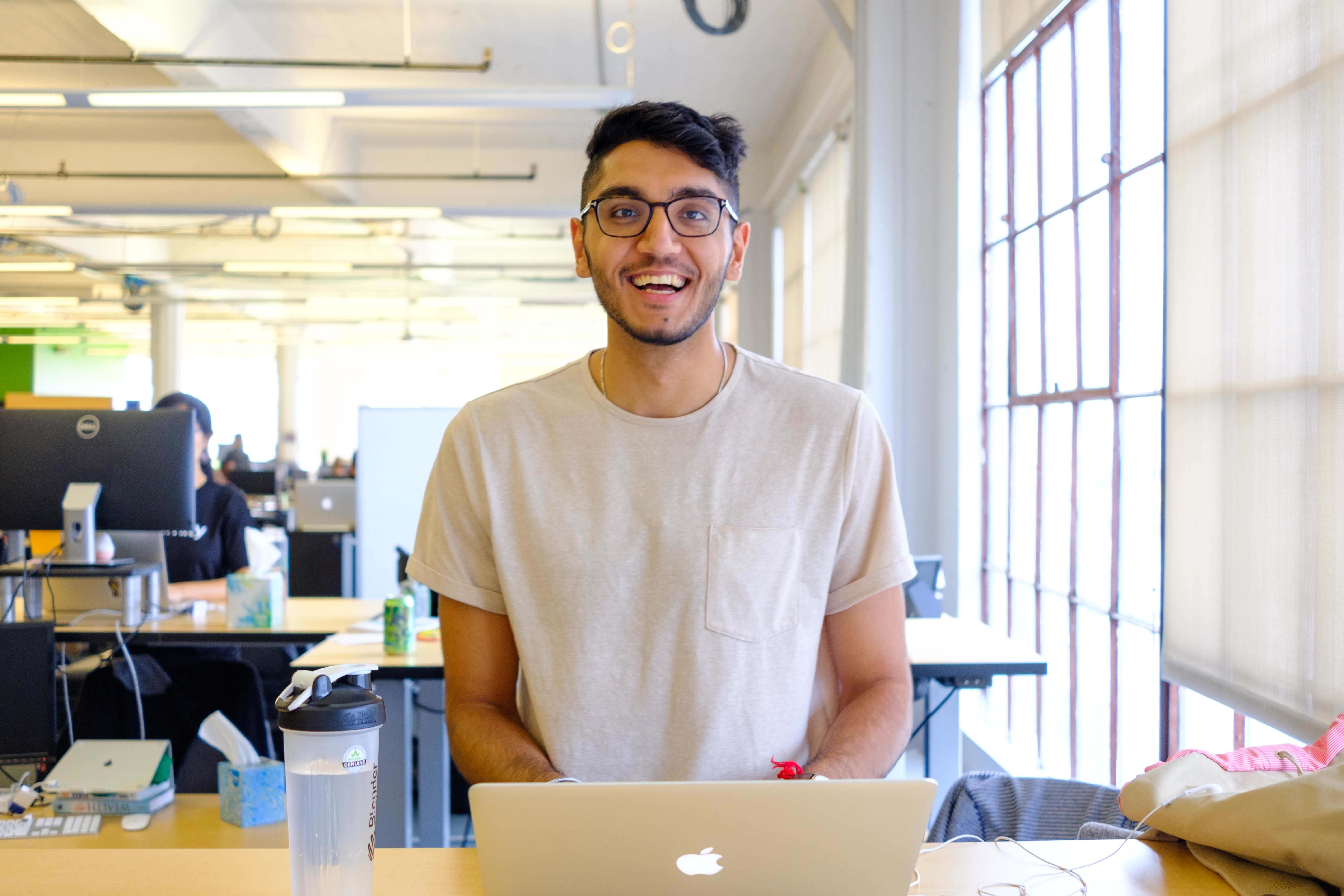 Coding in Rails at the Doximity office, told you it's fun.
Let's talk mentorship. When I was hired, I was assigned a personal mentor who has been there to answer any questions I've ever had (thanks Krish, really appreciate it!). Having a personal mentor is great; it makes learning easy and it gives me great comfort knowing that there's someone there who's always willing to help even if he's busy.
The biggest learning from my time at Doximity isn't regarding any specific technology. It's the development of a trait that many good engineers seem to have: the ability to switch between code bases often and make contributions right away. In the last few months, I've worked on 7 different applications -- and I've been able to make valuable contributions in each. These applications include the main Doximity app, Email Delivery, Heaven (our deployments app), Orientation (our internal wiki), and a bunch more. I attribute this success to the support I got from my mentors and the trust they had in me delivering the required features.
Q: What's a day in the life of an engineering intern?
A: A regular work day for me starts at 9:30am. I usually begin with reading some emails and checking for any slack messages. I'll take a look a quick look at Pivotal Tracker to remind myself what tasks I'm currently working on and peek at what's in the backlog. At around 10:00am, I'll send a message to a slack channel consisting of my mentors, letting them know what I worked on yesterday, what I plan on working on today, and anything that's blocking me (a "text scrum"). After that, I'll "officially" start working on the tasks I'm currently assigned. This means coding, testing, asking questions, etc. At noon, I'll join some co-workers to have lunch and crack a couple jokes; then I'll get back to work till about 5:30pm.
Doximity has Work From Home Wednesdays (WFHW). At first, I thought I wouldn't enjoy this concept because I've always believed work stays at work, but after the second WFHW, my opinion changed. Working from home in the middle of the week splits the week up beautifully, boosting my productivity the second half of the week. On Monday and Tuesday, you come into the office and be productive. On Wednesday, you can catch your breath, work in your PJs, run day-time errands, and not have to commute (meaning you can wake up at 9:00am, though, I'm not saying I have...). Then, back to the office on Thursday and Friday, and it's already time for the weekend! Work weeks have never felt so manageable. WFH Wednesdays gave me the energy to work hard for the entire week.
Where does the fun come in? After work at 5:30pm, a bunch of folks head up to the JBar (our private rooftop lounge) to grab drinks, play shuffleboard, or chill. I recommend going on a Tuesday or Friday, when most people are there. Doximity really values work-life balance. I've never been asked to work overtime, in fact, I've been discouraged from doing so. This is huge because, before coming down to the Valley, I had always heard that everyone works really late (sometimes because they don't want to be the first to leave). Sounds terrible. During my time here, I've been able to maintain a solid weekday schedule of work, gym, dinner, and home by 8pm. You know what they say - a healthy body and a healthy mind equals a happy life (I don't really know if they say that).
Q: Why Doximity?
A: First and foremost, Doximity is a company with a real purpose and meaningful goal. For a lot of people, even myself, working with friendly and caring people is the most important part of a job. In my opinion, the next biggest factor in enjoying work is how much you resonate with and support what the company is doing at a product level. A company can always say they have a good culture, which Doximity does (see Q: What's the culture like?), but one thing everyone should know before joining a company is what the company is trying to achieve. Before joining Doximity, I could clearly see that it could save lives by solving a fundamental problem in the medical industry: lack of communication.
At Doximity, we have the ability to see firsthand the difference we're making. Aparajita Singh, a San Francisco Gastroenterologist wrote in, "I was struggling with a complex patient with a very rare condition -- sclerosing mesenteritis. I easily found an article on Doximity authored on that topic by an expert and was able to contact the author. He told me about a medicine that he was trying out on his patient and it just all worked out. Thanks Doximity!"
Doximity alleviates doctors from the headaches of their jobs and is bringing the communication technology in the medical industry up to present standards. Unfortunately, prior to Doximity, it had been stuck in 90s. It is safe to say that Doximity's impactful line of products and services played a big part in my decision to work here.
Q: What's the culture like?
A: The way I would describe Dox culture is with the old saying, "work hard, party harder!" Actually, that downplays how hard people here work, so let's go with "work harder, party harder!"
Right off the bat, Doximity has quarterly offsites! Let's crunch some numbers here - that's 4 offsites in a year! Offsites are when teams get to meet up at an awesome destination, reflect over the last quarter, and celebrate their accomplishments. I was lucky enough to go to Seattle for the engineering offsite, all expenses paid by Doximity! Big shout out to Rachel and Amy for organizing everything beautifully! My favorite part was meeting co-workers who I don't get to talk to on a day-to-day basis. It also didn't hurt that I got to see a new city for free. For the offsite, we all select an activity that we'd like to do while we're there; in Seattle, the list included kayaking, paddle boarding, a Boeing facility tour, visiting the Space Needle, and more. I tandem kayaked with my coworker-friend Chris and we had a great conversation while taking in the beautiful views of Lake Union.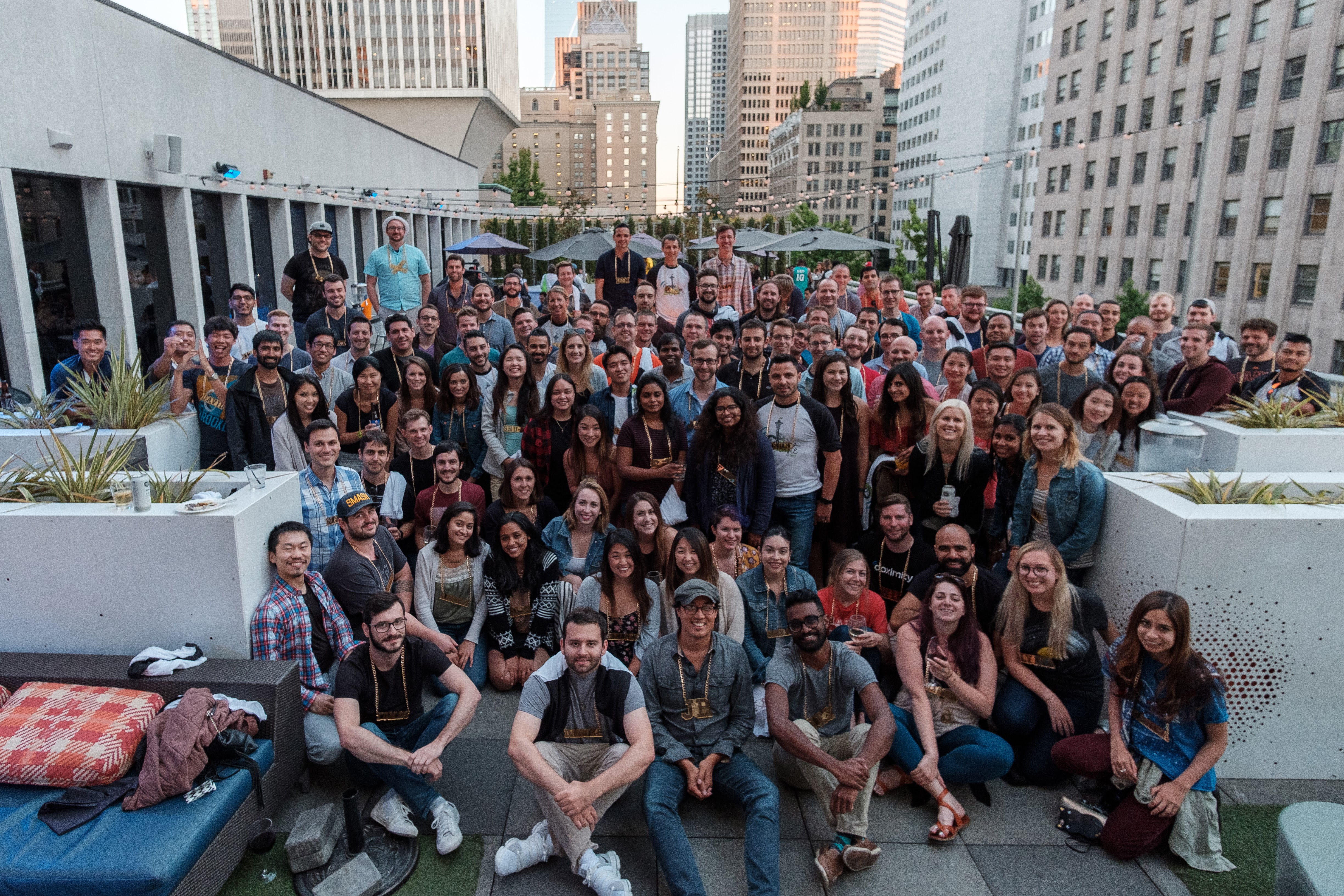 The Doximity team at the Seattle offsite.
At this quarter's offsite, all the engineering teams proudly presented the features they implemented. It was mind-boggling to see how much stuff got done in only 3 months. Numbers speak for themselves and, during these presentations, I saw a lot of graphs that went up and to the right. You don't have to know much about stats to know that's a great sign.
Everyone's extremely smart here, but also extremely down to earth. One night, I was on LinkedIn and decided to stalk some of my co-workers; I must have gone on a 7 profile streak of PhDs! These are coworkers who I would have never imagined being PhDs, not because they don't seem smart, but because of how humble they are. I've never felt even the smallest bit of arrogance or superiority radiate from anyone. I like to compare Doximity to their hometown basketball team, the Golden State Warriors. There is no LeBron James or Kyrie Irving; rather, there's a collection of very talented teammates who play their role and do so very well.
Q: What are the benefits of interning at Doximity?
A: There are many perks to working at Doximity. Starting off with the basics: I'm paid well, I get my flights to-and-from home reimbursed, and I get free lunches and snacks. Lunch is delivered to the office by Eat Club, which allows you to pick lunches from a wide variety of local restaurants. If you're looking for filling, protein-packed meals, I suggest going with the Butter Chicken or the Chicken Tostada Salad (who would have thought you can get 40g of protein in a salad?).
Another big benefit to working here is you get to live in San Francisco! Full disclosure: at first, I probably wouldn't have listed this as a pro. Mostly because I'm a huge homebody, but also because SF is just a lot different than my hometown of Toronto. But every day I've lived here, I've grown to love the city more and more. If there's ever a day I'm feeling down, all I have to do is walk out my door and go for a little walk. A big part of this is I really love the neighborhood I live in (Russian Hill). Some advice for future interns: I advise you spend a good amount of time looking for the neighborhood that's right for you.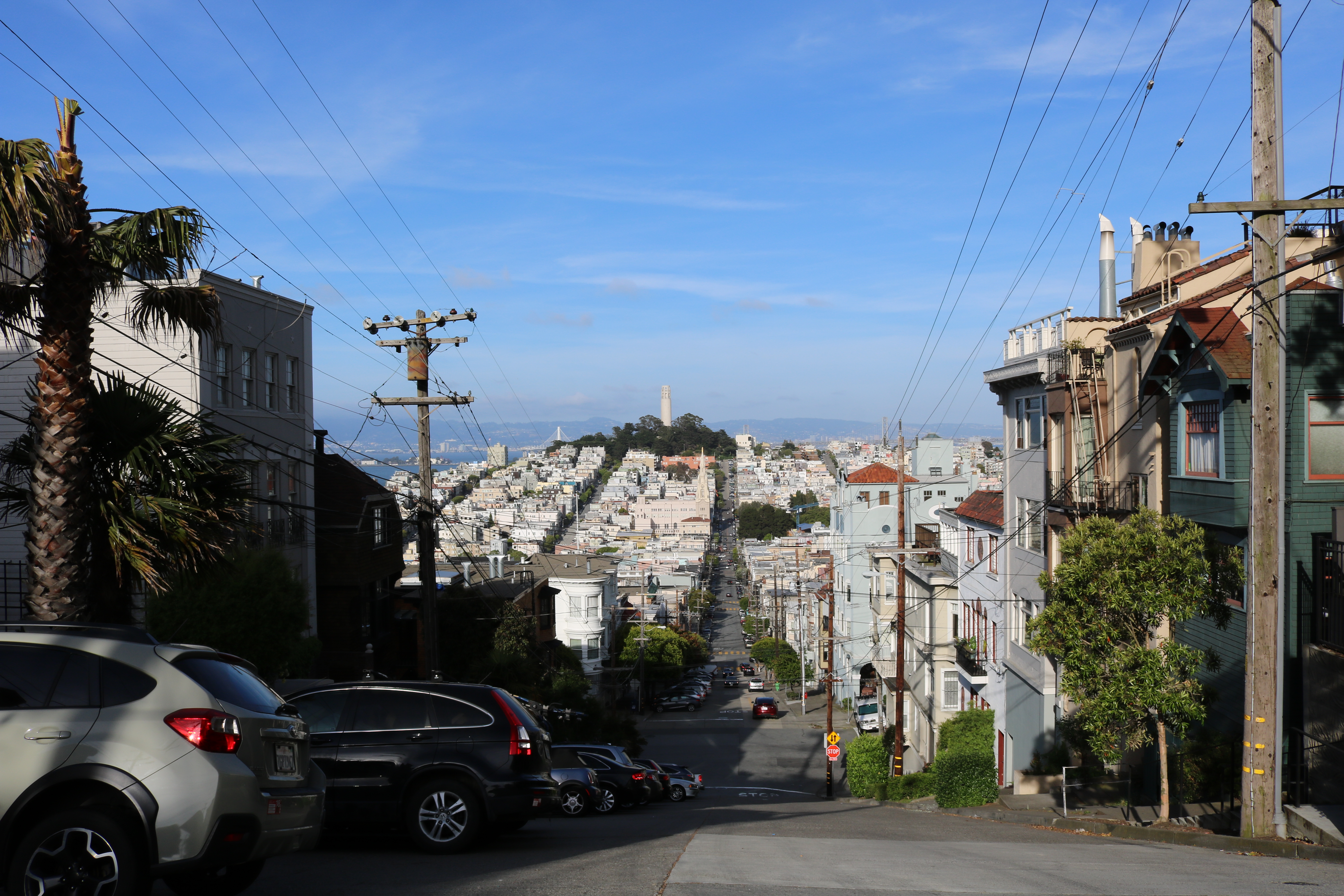 The view from my house, right at the top of Russian Hill.
Another awesome part of being an intern is you get to participate in the Annual Doximity Intern competition. All the interns get placed on a team and each team is asked to organize a party after work centered around events happening at the company. For example, my team's party took place on the night of Doximity's shuffleboard tournament finals, and the opposing team's took place during karaoke night. The winning team gets to choose a costume they'd like the losing team to wear to the end-of-summer bash. I found both parties to be a blast, but at the end of the day, there's always one winner (thankfully, it was my team!). We're still deciding on what we want the other team to wear -- trying to keep it work-appropriate but also want to have a good laugh!
Conclusion
I hope that I've covered all the information anyone interested in a Software Engineering Intern position at Doximity is curious about. I feel very lucky, privileged, and blessed to have had this experience. Big shout outs to everyone at Doximity. Keep it up -- you have something very special here!

If Doximity sounds like the place for you, check out the job board and keep an eye out for Doximity on your school job listings.
---
Special thanks to Priya Gangolly, Bruno Miranda, and Jey Balachandran for readings drafts of this.*
Be sure to follow @doximity_tech if you'd like to be notified about new blog posts.