Starting a new development job is exciting. It's also tremendously stressful! You have dozens of new people to get to know, a new codebase to learn, new libraries and coding styles to incorporate into your coding practice, and good first impressions to make. How do you navigate all of those things at once? There are lots of things you can do: take notes, get enough sleep, study the new repository. But we believe that the responsibility for a good start in your role is a shared one. We have worked extraordinarily hard to figure out how to make your first few months at Doximity both as fun and as productive as possible.
Pregaming: Laying the Foundations
We're a fully distributed team; therefore, all of our developers work remotely. If you were showing up for the first day of work in person, we could give you everything you need then. But since your first day of work will happen in the comfort of your own home, we have more prep work to do!
First, we mail you a high-end Macbook Pro a week in advance. Developer time is super valuable, so fast processors and heaps of RAM are excellent investments. We also set up all of your accounts – Jira, Github, Slack, Gmail – so that they'll be ready to go when you start. In addition, you'll get a sweet box of "welcome aboard" goodies! (We won't spoil the surprise of the contents for you!)
Your First Day: Finding Your Footing
Because we're remote, the first order of business is for you to hop into a videoconference and meet some people! In addition to a traditional manager, you'll also have a mentor. Your mentor will be with you for at least three months and will provide technical guidance and pair programming time as you learn our codebase. You can also ask any newbie questions that may feel awkward to bring to your manager or the rest of the team. Our mentor program is one of the most vital parts of our onboarding process.
Next, you'll have an official welcome meeting with HR and other new employees. We're still growing rapidly, so there will probably be several other people who are also just joining the company. A couple of our wonderful HR folks (really, they're super helpful!) will guide you through all the first-day intricacies of insurance, payroll, benefits, stock plans, etc.
Then it's time to meet the team! We have a weekly scrum and demo day that includes your fellow devs as well as the product managers, QA folks, and designers. After your manager introduces you, your team members will tell you about their roles, discuss any blockers, share a little bit about their weeks, and show off anything noteworthy they've been working on.
Finally, you'll spend the rest of the day getting your machine set up and the project building. We work hard to maintain our project documentation, so you should be able to follow along with the README to get your workstation set up and running. (And if you do bump into any issues, your first commit to the repo may be to make the README better for the next developer to join our team!) And since we have a home office stipend, this is a good time to put in an order for that ergonomic keyboard or big monitor you've had your eye on.
The Onboarding Curriculum
In addition to the real-time guidance you'll get from your mentor and manager, you'll also have an extensive curriculum available to you in your first weeks that covers topics from exporting assets from Figma to the details of our analytics framework (and many more). All of this is done at your own pace with your mentor's support and with a training budget if there are gaps in your knowledge that commercial courses would help fill.
This curriculum, as well as the rest of your onboarding, is a living experience. Because technology and our product change quickly, you'll have many opportunities to provide feedback about your onboarding to HR, your manager, and your team. That feedback will be incorporated into the interview/hiring process and the onboarding to make those even better for the next person who joins our team.
DoxU
A key part of this curriculum is DoxU – your chance to visit the office in San Francisco, meet other Doximity people in person, and get acquainted with the various departments within the company.
It takes place once a month for all new hires, may or may not fall on your first week, and is best done in person at the San Francisco office. Your mentor, manager, or another guide will be at the office to greet you and show you around.
DoxU walks newbies through the history of the company and provides a high level overview of each of the business areas. You will find there is a lot going on at Doximity outside the mobile app! You will also get the opportunity to meet a wonderful group of people, enjoy San Francisco, and experience what the Doximity culture is all about. Maybe you'll even get to share a toast with Jeff, our CEO, at the JBar!
Tuesday through Friday: Meet Your Team
As your first week progresses, you'll have several more opportunities to spend time with other people you'll be working with. Your product manager will set aside an hour or two to guide you through the Doximity app and to bring you up to speed on current initiatives. Your manager will walk you through our processes so you'll understand the steps needed to get your first pull request merged. You'll have a one-on-one coffee chat with another developer on your team. And you'll get to participate in your first weekly all-hands company call where you and the other folks in your newbie cohort will be introduced to the whole company. That call will also include details on company-wide initiatives, new benefits, and upcoming offsite meetings.
You'll also continue working through the onboarding curriculum at your own pace. Your mentor will give you a guided tour through the code. You'll have an easy ticket or two assigned to you so that you can get familiar with our process for code reviews, QA, and deployment. We publish new builds to the App Store once a week, so it never takes long for your work to see the light of day!
The Rest of Your First Month: Learn the Product & Contribute
The onboarding curriculum and your mentor will continue to be your guides as you become more familiar with our processes and code. You'll also get to join one of our biweekly "iOS Lunch & Learn" sessions, where team members have a low-pressure opportunity to share things that they've been working on that affect the entire codebase or to bring up issues that all of the devs should discuss together. And you'll enjoy a Roundsy hangout, where you'll get to chat with a selection of four other team members that rotates every seven minutes – a great way to continue to get to know more of your team members better.
In addition, if you're near other Doxers, you'll get to meet up with them in person for the first time! We have local dinner meetups around once a month in dozens of places throughout the US. In addition, some groups get together for a coworking day from time to time at a nearby coffee shop, shared office, or even each others' homes. The chance to be together from time to time helps build relationships and catalyzes creativity among the team.
And finally, your manager will set up regular one-on-one conversations with you to be sure you're getting all of the support you need.
Months Two and Three: Leveling Up
By now you'll be tackling tickets that are a little more challenging. You'll continue to work your way through the curriculum. You'll get to know more Doxers on other teams as your work brings you together.
Best of all, you'll get to attend your first offsite. A few times a year, we like to get together someplace fun with the whole technical team to celebrate our triumphs of the past quarter, to learn from one another, and to plan for the months to come. These are always a highlight – not only for the official content, but also for the karaoke, miniature golf, gaming, outdoor activities, fitness boot camps, and other adventures that inevitably also occur.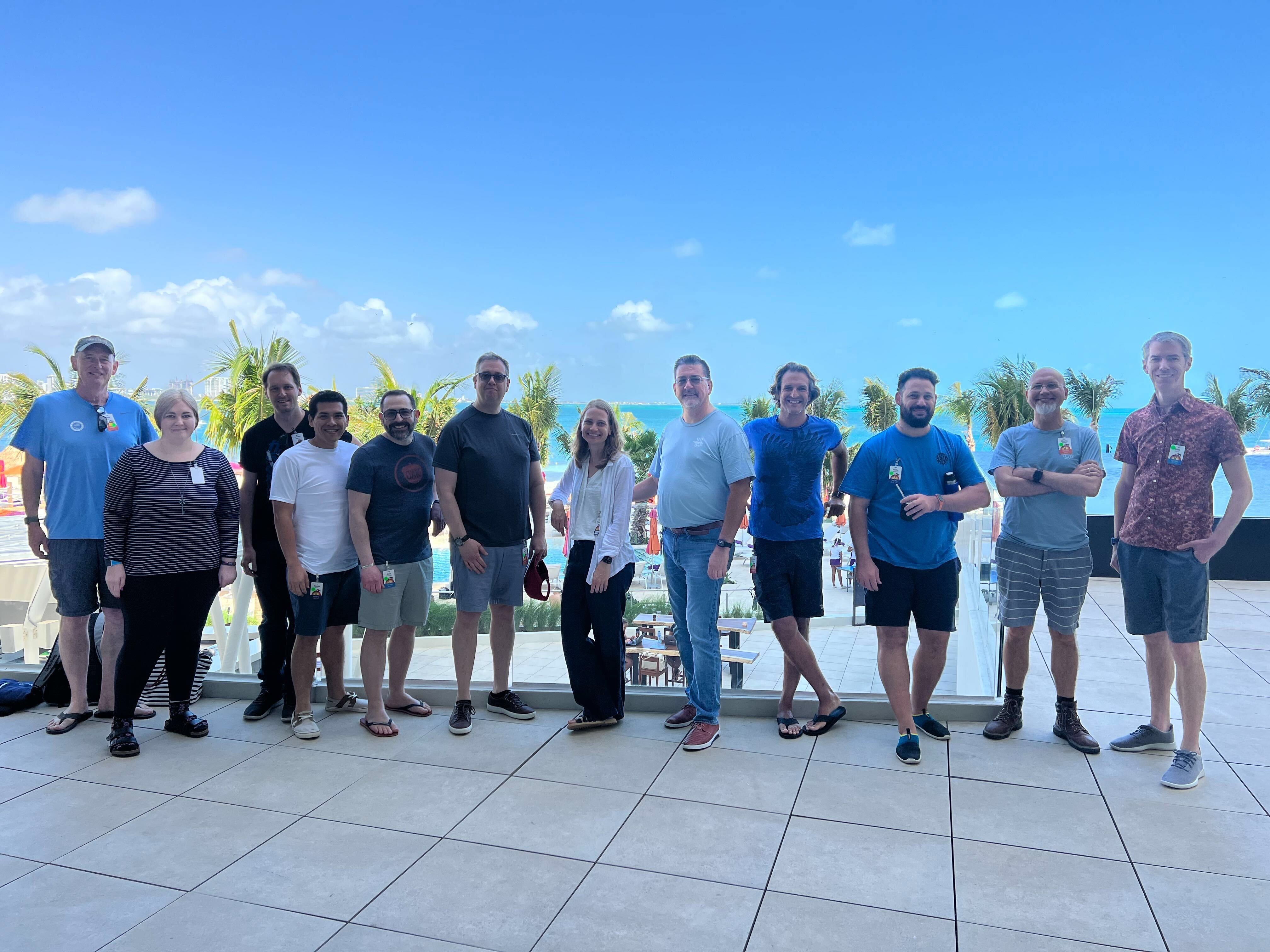 Graduation Day: Spreading your Wings
You've made it through the curriculum. You've made meaningful contributions to the code. You know all of the people you work closely with and have enjoyed meals and tasty beverages with many of them. And now the day has come. While we don't surround it with too much pomp and circumstance, there will come a day when your mentor says "You've now graduated from Padawan to Jedi" (or words to that effect). That first day anxiety is now but a memory, and you're a fully-fledged contributing member of a terrific team of brilliant developers.
Congratulations, and welcome aboard!
---
Be sure to follow @doximity_tech if you'd like to be notified about new blog posts.